Book Review #161 – Between You And Me: Flight to Societal Moksha
(General Rating – 4 Stars)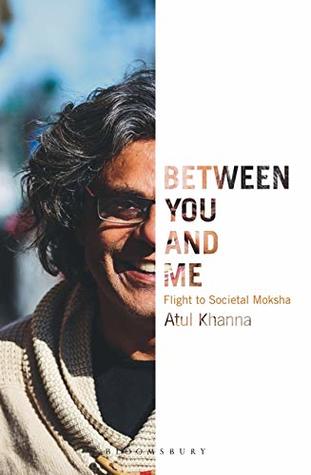 Add on Goodreads | Buy on Amazon
My Actual Rating: 3.5/5
Goodreads Rating: 4/5 (as of January 21, 2018)
Genre: Non-Fiction
Pages: 300
Published: 2018, Bloomsbury Books
Preferred Age Group: YA
Recommended to all: Maybe.
Series/Stand Alone: Stand-alone
Blurb
A young soul trapped in an old body.
A ticking clock slower than time.
Can this be the ironic destiny of 600 million bright and young Indians? Are we born free and yet trapped by our circumstances?
Between You and Me is a conversation that makes the reader ponder about the much-needed transformational changes for the twenty-first century. Why should we get up to act only when we are pushed to the corner? After all, a stitch in time saves nine. Could it be that the parameters of economics, administration, democracy, and social and political constitutions were all ideated and executed for another era? Will tinkering with these institutions help or are fresh ideas needed?
Encompassing an extensive discussion and analysis of what comprise our society-government, economy, education, healthcare, science, technology and so on-this book gives the reader a holistic view of India and helps in deriving solution-oriented ideas for a new societal design and structure which will ensure a thriving democracy. It presents the hope and aspiration of an ancient society that wants to break through the colonial legacy and land safely into the future. It is a gripping petition with operating models for redefining the citizen's role-from the audience to the hero-which, if implemented, would bring societal moksha of peace, power and prosperity.
My Review
I received a copy of this book in exchange for an honest review.
Ah, alright. What can I say about this one? Well, okay, let me try. It's a conversation. In the crudest of terms, and the most basic of all languages, this book is a conversation. Sounds strange, doesn't it? But it is true. This book is a conversation between the author and the reader and it is about how our place and our lives today are in a lot of need of transformation.
Atul Khanna, in his novel, Between You And Me: Flight to Societal Moksha talks of the topics that you, as a reader sit and ponder over. He starts with ancient history and the topics of Eklavya and Karna. How different and how tough lives were for them. How hard was the society on them. And yet, these guys endured that and so much more and today, they are few of the notable names from ancient Indian history/mythology.
In this book, the author raises the topics of democracy, economics, social and political constitutions, and even administration to bring to our eyes what is happening and how things really are. There are so many aspects of every thing and everyone that we, as a collective people, tend to go with the flow and not notice the things that require improvement. In this book, Khanna is focusing on all of that and so much more.
Honestly, I'd say that despite the unusual style in which this book was written, I quite liked it. It felt as if the author is talking directly to me by raising those questions and throwing them on my face (and in a way, he probably is). The idea behind the book was to give us ideas on how he believes we can improve as a society. I won't say that I don't agree with them but at the same time, I don't feel like I'm qualified enough to judge them. This book would do a lot better to be in the hands of those who hold power so that they can think all of this and decide whether it will work in the practical way or not.
I guess it was a rather enlightening read and I would recommend it to all of you, folks. 🙂